Chiropractor Greenville SC
Carrano Chiropractic
Welcome to our chiropractic clinic! We are proud to serve our community to resolve health issues and find pain relief. While Greenville chiropractors are known for helping with chronic back pain, we actually help with a wide variety of health concerns.
Let me introduce you to the next level in Chiropractic Care. I am Doctor Carrano owner of Carrano Chiropractic. I have created a unique team of Chiropractic Physicians dedicated to your wellbeing, not only in Chiropractic care but also in Nutrition, Therapy, Positive Energy, and Kindness.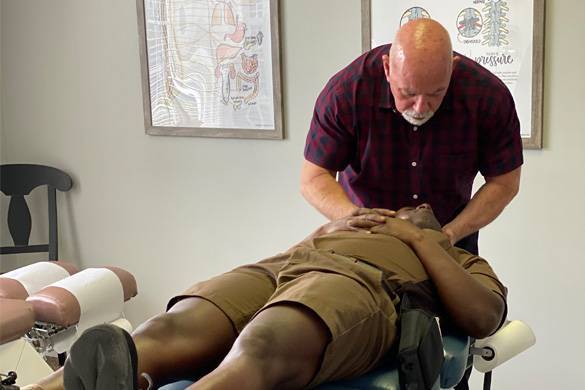 Chiropractic Treats A Variety of Conditions
We treat many differing pathologies: such as Low back pain, Neck pain, Muscle pain, and we have had success with a variety of illnesses related to nutritional deficiencies. We also do anti-aging, immune enhancement, blood work, mitochondrial enhancement, and many more.
Chiropractic Misconceptions
We are doctors of true healthcare. We locate, analyze, and treat vertebral subluxation that causes dis-ease in the body. We do not treat symptoms. We remove interference that a misalignment in the spine is causing on spinal nerves. The adjustment allows the proper flowing of nerve impulses out to every organ and body tissue. The majority of the time pain is the first symptom to subside when being adjusted. That is why many people from Greenville get care here, to remove pain, but our patients receive so much more. They get a fully functioning nervous system that allows the body to function and adapt optimally.
Hands That Heal: Getting To the Root Of The Problem
Services That Meet All of Your Healthcare Needs
We are partners in your journey and we understand how debilitating unnecessary pain and inflammation can be. Our goal is to help our patients find relief and take control of their whole health. See some of our Chiropractic services and all we have to offer. In addition to chiropractic care, we also offer Personal Injury and Zyto Scan. LEARN MORE HERE
Chiropractic Techniques
Diversified
Gonstead
Activator
Thompson Drop Technique
Sacral Occipital Technique